Dear Friends,
Thank you to everyone who came out to support me at my two recent fundraisers in Wolcott and Southington.
I will be holding another event in Prospect on February 28th. Details to be announced in the next few days.
Possibly the most difficult part of campaign season for me is asking for money. The good news is that I am nearing my fundraising goal for my 2022 Senate re-election campaign.
I have two goals, one is a dollar amount -which I have nearly reached. 👏
The other is to reach 300 individual donations from the residents of Southington, Wolcott, Cheshire, Prospect, and Waterbury.
If you live in one of those towns and you think I am doing a good job and deserve your support, please consider making a small donation of $10.00 to help me reach my 300 donors.
You can do it online in just a few minutes at the link below.
https://secure.anedot.com/sampson-for-ct/donate
Despite many obstacles, I am proud to have never wavered in my efforts to reaffirm our station as free citizens and in favor of our American system of representative government – passing some good laws – and blocking many bad ones. I strive to be an example to my colleagues, and to consistently represent my constituents no matter the odds against me.
My primary objective remains protecting and maintaining the American dream, to ensure it survives for future generations. Together, we can reverse the dismal current course of our state, realign our priorities, put our economy back on track, and restore American prosperity. You can count on me to continue to work tirelessly in that effort.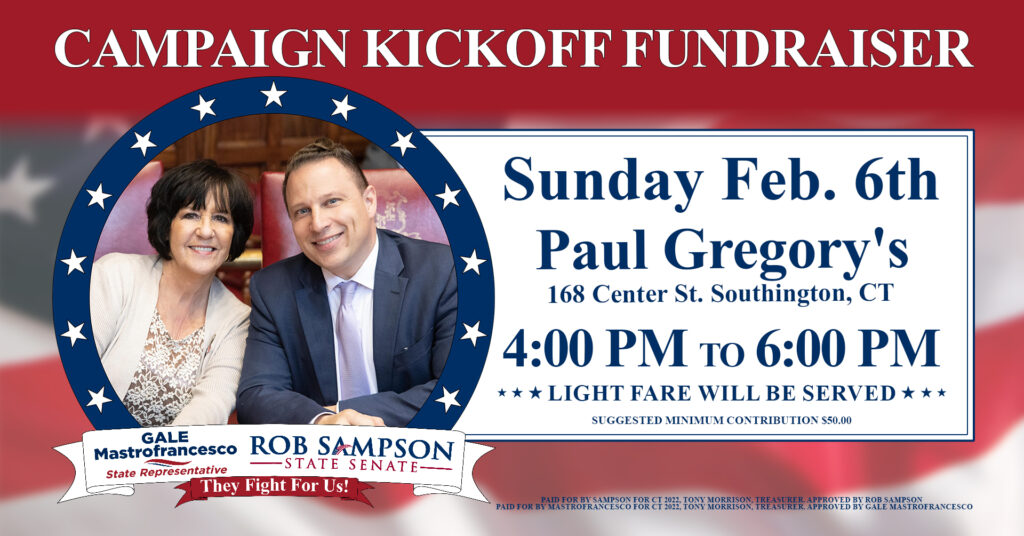 I promise your contribution will be put to good use protecting our liberties and fighting for a better Connecticut.
Thanks for taking the time to read this message and please accept my thanks for your consideration.
State Senator Rob Sampson
PS  I want to offer a special thank you to those of you have already donated and continue to support my efforts.